Geekvape Brand Review
Geekvape is one of the most renowned companies in the vaping industry as they aim to deliver an innovative and reliable user experience with their products since they launched in 2015. Geekvape has constantly served and listened to feedback from over 30 million customers globally with the highest standard. Part of Geekvape's development of unreleased or newly released products is actually inspired by creative artists and confident individuals on their social media platform of Instagram so you can expect to discover even more aesthetic designs in the future.
The meaning of "Geek"
Geekvape also has a set of principles of the word "Geek", therefore, they aim to be "G" Genuine: staying reliable in their innovations and new technology, "E" Enthusiastic: in terms of what people want in their upcoming products to ensure satisfaction, "E" Expert: being in the field to create the best quality of products as detailed as possible for everyone and "K" Knowledge: to retain the essence of advancement in their power to build better devices.
Popular Devices
Tsunami RDA
Griffin Tank
Avocado Tank
Ammit Tank
Aegis
Zeus
Wenax Stylus Pod System
Geekvape started off with RDA's and RTA's to get a feel of the vaping industry and based on popular trends, 2015 was the year where vapers were going crazy about tanks as they are they are what determines best flavoring and cloud production.
1. Geekvape Tsunami RDA (2015)
The first-ever tank was the Geekvape Tsunami RDA was designed with a Velocity deck, Kennedy style airflow adjustments, PEEK insulator, and 3 different mouthpiece options to get a feel of the RDA. Fellow vapers who have been in the game this long will recognize this particular RDA due to the similarities of the design, functionality, and performance.
2. Geekvape Griffin RTA (2015)
The Geekvape Griffin RTA was one of the simplest tanks to work with including coil building, coil installation, cotton installation, and the wicking process is super smooth and consistent. The interior design is so old-school but the performance itself is surprisingly well done, although it did take some time to get used to whilst installing your coils as you will have to deal with leads sticking up, and cutting the right length used to be a major hassle. Although, once that part is done, then you're pretty much set as the tank holds up to 6ml which is pretty good if you ask me.
3. Geekvape Avocado Tank (2015)
Geekvape also came out with an RDTA which not many are fond of due to the mechanism and design to it as it's slightly bigger compared to an RDA or RTA. However, despite the size, the Avocado Tank actually performs better than the Griffin Tank as it gives off better flavoring and cloud production as well. The idea was so simple yet amazing, all you had to do was install the coils at the top of the deck and fill the liquid at the bottom which is connected to the cotton for absorption. The Avocado was so clean that when you unbox it, not a single dirt or residue of manufacture residue was found on the surface of the tank. Thanks to the Velocity-style coil deck, building coils have never been easier before and this was a huge satisfaction for coil builders. However, I did notice one small issue with the wicking part, you had to make sure that your cotton isn't too thick because it would take a long time for your cotton to absorb the flavor. Regardless, the best parts of the tank still beat the bad parts even though it's a minor hassle to deal with but you'll get used to it and it's one of the pioneer tanks in RDTA history.
4. Geekvape AMMIT RTA (2016)
Most companies like Geekvape started leaning towards the RTA's after RDA's and RDTA's as it was rising in the market, therefore, Geekvape released the AMMIT RTA with a single-coil build deck and is mainly focused on the Mouth-to-lung (MTL) experience. Additionally, it has integrated the three-dimensional airflow system which resulted in producing brilliant and crispy flavoring of any e-liquid. Its feature includes a 3.5ml juice capacity which is pretty standard, a top-fill ability, In hindsight, the AMMIT RTA with its MTL feature was what really sells because of how subtle and gentle it performed as well as the flavor quality was second to nearly none.
5. Geekvape Aegis Series (2017)
Eventually, Geekvape was able to put their name in the people's heads, they were able to begin developing their devices called the Aegis Series starting off with the Aegis Mini Kit, Aegis Solo Kit, and the Aegis Legend Kit, Aegis X Kit, Aegis Boost Pod System, Aegis Boost Plus Pod System. To be honest, there has been much of a difference between these devices as they were integrated using the AS-Chipset which is so simple to make adjustments on the device. What really stood out was the fact that Geekvape actually recognized a problem in vaporizers and developed a solution and that is a device prone to breaking or damage hence they designed all their Aegis devices with military-grade materials which enable them to be water-proof, impact-proof, and dust-proof. Like you could literally chuck the device around in a washing machine or in the water and it still works perfectly.    
6. Zeus Tank (2017)
Geekvape's Zeus Series is actually pretty good. Honestly, like the Valyrian or the Falcon King tanks. The Zeus Tanks are as powerful as it shows, with a high range of wattages for the coils ranging from 60-70W, 70-80W. Recently, they've released a new coil variant that would go as low as 40-50W if it's unbearable for certain users because it's that strong in heat and flavoring. The first Zeus Tank was actually a Rebuildable Tank Atomizer for users to build their own coils and wick cotton with precision. You could literally build alien coils and install them into the deck without struggle. The second version is the sub-ohm version where the 3 coil variants are applied, super strong in wattage and favoring which is impressive. Eventually, Geekvape decided to go backward in the third version and designed the X Mesh RTA where instead of traditional coils, you would use mesh coils to vape. This was a bit of a bad move considering the difficulty and struggle of trying to use Mesh Coils. If it was a sub-ohm mesh coil, it wouldn't be a big problem at all. 
7. WENAX Stylus Pen (2020)
Since the popularity of pod systems has spiked exponentially, Geekvape followed the trend and designed pod systems, apart from the Boost and Frenzy. Launched the WENAX series is one of the most simplistic yet amazing devices to choose as a beginner which benefits those who are seeking to stop and transition smoking to vaping without having to go through frustrating adjustments. All you really need to do is pick a flavor, add them into your cartridges with your preferred coil resistance, choose the right temperature setting amongst the 3 pre-set settings you could choose. Quick and Easy.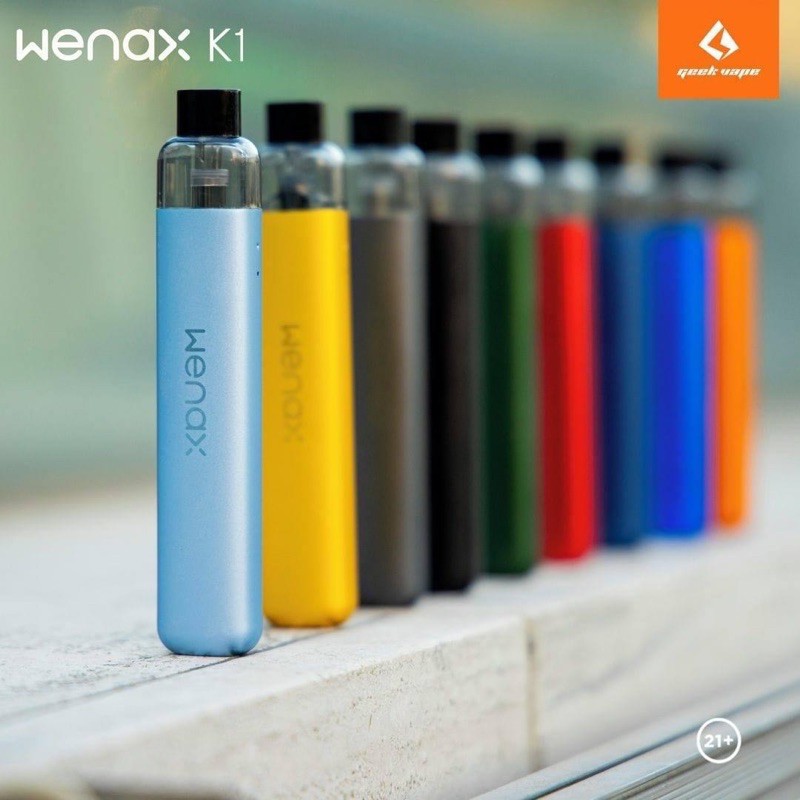 Final Thoughts
Overall, Geekvape is a great company that showed promising innovation and listened to customer needs and wants as well as competing vigorously with trends in the market. Judging by the devices they have released over the years, you could say that Geekvape is a brand best for beginners and a little bit for veteran users. Even if you were to learn a lot about vaping, you wouldn't have to apply it to Geekvape products because they're super simple to use and functions are easy to workaround. If you are starting to quit smoking and would like help, I would personally recommend that you try it out with the WENAX Stylus Pen first to experience what vaping is like and you can find it here on our site.